AMTRAN News
Trip Planning Through Google Maps
AMTRAN is proud to announce transit trip planning through Google Maps™ to an already long list of technology applications to make it easier to ride the bus.
Just click the light blue icon above. Customers can plug in their origin, destination, and time of day to have Google Maps™ plan their bus trip for them. Their plan will include directions to the bus stop (and how long it will take to walk there), when the bus is scheduled to arrive (and how long the bus trip will take), and finally how to get from their ending bus stop to their final destination (again including how long a walk).
According to Eric Wolf, AMTRAN General Manager, "This is a simple, easy solution to customers asking 'how do I get there from here?' It works on a desktop computer, a tablet, or a smart phone. Plus it's available 24/7."
Trip planning is only the latest technological innovation for AMTRAN. For more than four years, customers have been able to get real-time bus departure times from any AMTRAN bus stop through their computer or phone plus through scan-able QR codes at every stop.
AMTRAN's tech partner is Avail Technologies in State College, PA.
---
Technology you can use
We can tell you when your bus will be at your stop on your phone, smart phone or on the web.
myStop by Phone
Just dial 944-1200 and punch in your bus stop number. The computer will tell you when the next bus will arrive in real time. To see how easy it is, click the video on the right. (Every AMTRAN bus stop has stop number on the stop sign.)
myStop by QR Code
All AMTRAN bus stops have a Quick Response (QR) code for your smart phone posted on the myStop sign. It will tell you when the next bus will arrive in real time. (QR code readers are usually available as a free download at your App Store.)
myStop on the Web
Go to myStop. Then click your route and find your stop on the map. It will tell you when the next bus will arrive in real time.
---
No bus service on Sundays and on the following holidays - New Years Day, Memorial Day, Independence Day, Labor Day, Thanksgiving, and Christmas.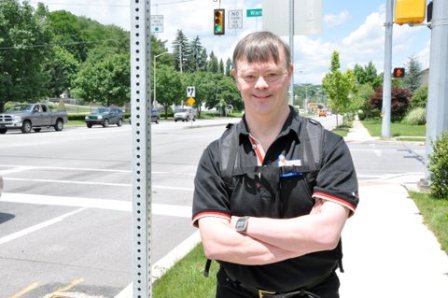 The bus service in Altoona has played a pivotal role in the quality of life for Carl. A native of Altoona, Carl was born with a mental disability. The travel services provided by AMTRAN buses help him to live a more independent life.
Carl works at a local Burger King and thanks the service and the bus drivers for making sure he arrives to work safely and on time. He takes pride and finds joy in his work, "I like to help the people who come to Burger King. I do a good job at work, and I have made many friends there".
Aside from the personal benefits that Carl receives from using public transportation, he is also grateful for the relief it provides to the people invested in his day to day life. Carl lives with his mother and step-father.
"The buses help my parents. I don't have to be so dependent on them for rides".
Although he knows that his life will always be affected by his family and the people he relies on for help daily, AMTRAN gives him the chance to "help" himself.
"It makes me happy to know that I can do so many things by myself".
Carl K.